SHANGHAI, China, March 20, 2023 (GLOBE NEWSWIRE) — Hywin Holdings Ltd. ("Hywin Wealth", "Hywin", or the "Company") (NASDAQ: HYW), a leading independent wealth management service provider in China, today announced that Hywin Family Office, the Company's unit for the ultra-high-net-worth (UHNW) segment, completed a two-day program that led a client delegation from Mainland China to Hong Kong, following the easing of COVID-19 travel restrictions, to hear and gain insights on global wealth opportunities.
Roland Song, Head of Hywin Family Office
The delegation was led by Roland Song, Head of Hywin Family Office, and consisted of 30 UHNW clients who were shrewd investors, entrepreneurs, and patriarchs/matriarchs keen to assess succession solutions to ensure family cohesion.
The activities kicked off on March 14 at the penthouse of the Bank of China Building where a series of lectures and seminars were held. Shan Hock Liew, managing director of investment banking at Bank of China International, enlightened the audience on the "art and science" of corporate financing and shared his keen insights on global banking.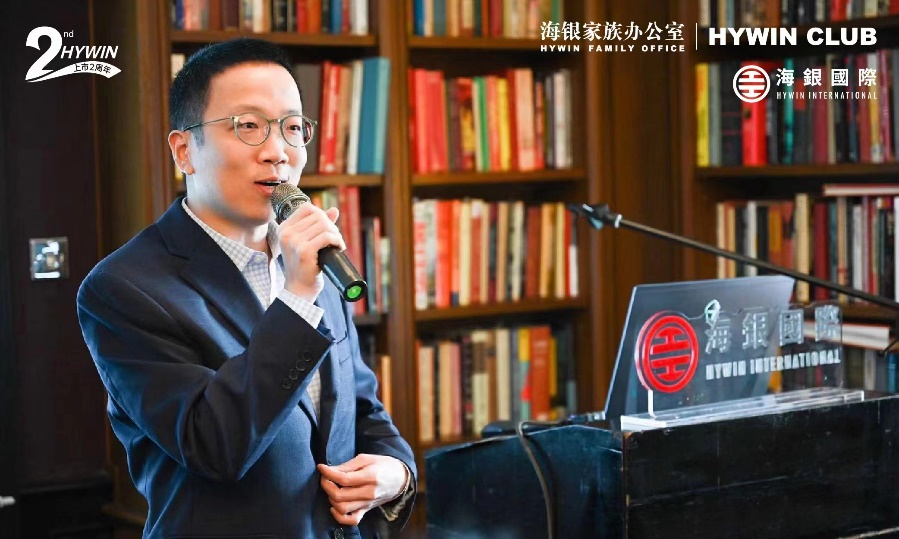 Lawrence Lok, CFO of Hywin Holdings
Lawrence Lok, Hywin's Chief Financial Officer, explained why Hywin is uniquely positioned to steer clients through market volatilities while providing solutions for the wealth and health of their families. Aaron Sung, Head of Asset Management of Hywin International, delivered a presentation on the offerings and achievements of Hywin's Hong Kong subsidiary, covering external asset management, private market funds, and index investing. Yanyi Choy, Head of Wealth Planning of Hywin International, talked about how trusts can be deployed to ensure continuity, and how tycoon families in Hong Kong have benefitted from fiduciary services for decades.
As guest speakers, Will Wang of VP Bank and Karina Wong of EY also delivered insightful and informative sessions. The day concluded with a private dinner at the Mandarin Oriental Hotel, together with the renowned economist Mr. Hong Hao.
On March 15, more seminars, workshops and social occasions were arranged for delegates to mingle with investment industry leaders. Senior representatives of the Carlyle Group and Apollo Global Management met Hywin's clients in the morning to present key strategies and share their institutional perspectives on long-term investing. Henley & Partners hosted a luncheon at China Tang, the renowned traditional Chinese fine dining restaurant, and spoke about options for citizenship planning.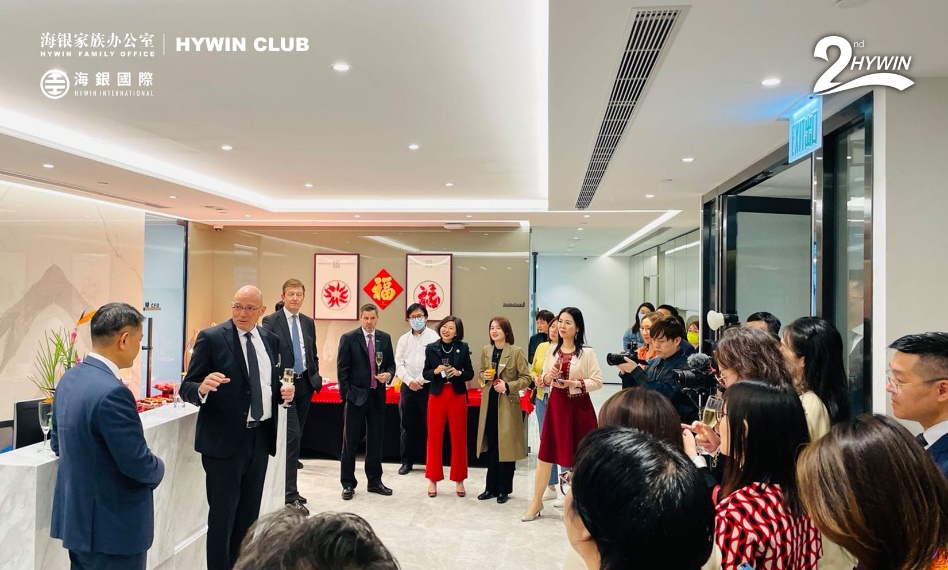 VP Bank Chairman and CEO with Hywin clients
The climax of the day was a cocktail party with the Chairman and Chief Executive Officer of VP Bank, Dr. Thomas R. Meier and Mr. Paul Arni. As the preferred private banking partner of Hywin clients, VP Bank's heritage and offerings were vividly narrated by its leaders. In the evening, a private dinner and sightseeing activities were offered, which wrapped up the trip on a high note.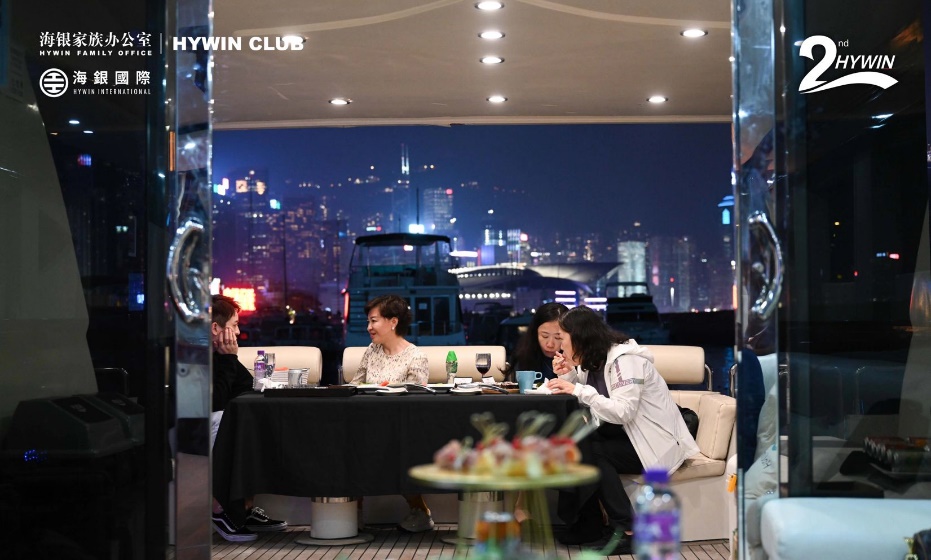 Hywin clients on the yacht
As the local host, Dr. Nick Xiao, Chief Executive Officer of Hywin International, expressed his excitement. "Ultra-high-net-worth clients are the most sought after segment for the global wealth managers. Their prudence, depth of knowledge, extended horizon for planning, and the interplay between wealth, family and business require their advisors to have the highest dedication, true humility, passion, nuances, and good judgement," said Dr. Xiao.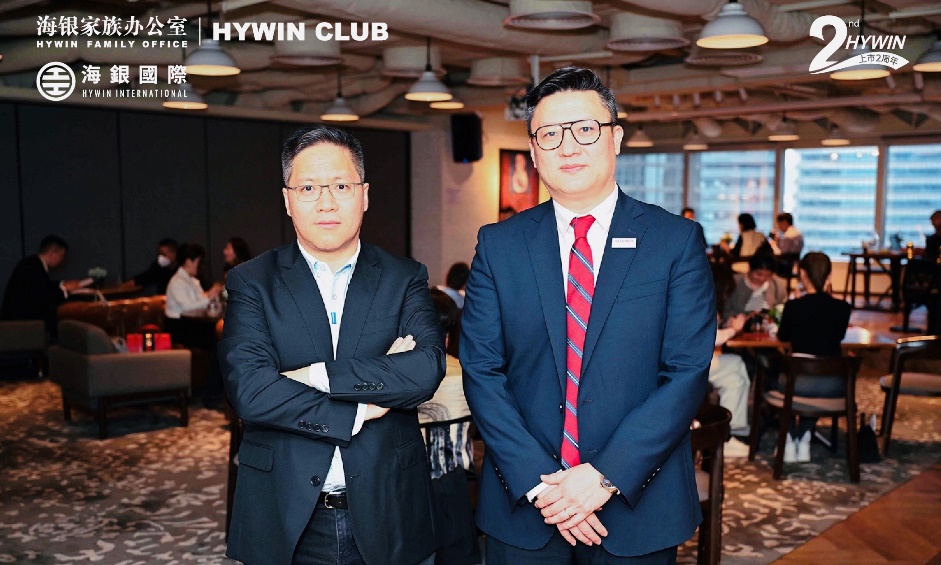 Nick Xiao, CEO of Hywin International & Roland Song
Lawrence Lok, Chief Financial Officer of Hywin Holdings, added: "It has been a most enjoyable program for our clients, and for ourselves too. Clients ask new questions, face new issues, and expect Hywin to understand the changing world and help them position for it. Meanwhile, our professional partners appreciate the opportunities to meet our clients, and take on mandates and assignments. Hywin is truly the bridge across borders, and matchmaker between clients and solutions."
Roland Song, Head of Hywin Family Office, couldn't agree more. "Ultra-high-net-worth clients see the world in motion, and approach life as a web of relationships, pursuits, and aspirations. Hywin Family Office is not just the engine of investing or a reservoir of insights. We are fellow travelers with our clients on the journey to experience and to discover – curious, always helpful, and truly trusted."
Chinese UHNW clients, who are the most demanding and discerning investors, have significantly increased their appetite for global asset allocation during the past few years. To meet their surging needs, Hywin was one of the first movers in launching the Family Office proposition in Mainland China and it has crafted a suite of solutions tailored for these clients. In the offshore space, Hywin International has set a benchmark in the multi-family office space, winning accolades from industry publications and the Hong Kong S.A.R Government, and serving UHNW clients domiciled in Greater China, Southeast Asia, the Middle East, and beyond.
March 26, 2023 marks the second anniversary of Hywin as a public company. The delegation program is a great success not just in terms of bringing insights to Chinese UHNW clients by re-discovering Hong Kong, but also by demonstrating Hywin's full commitment to building a global ecosystem of wealth management solutions that is offered to all Hywin clients.
About Hywin Holdings Ltd.
Hywin (NASDAQ: HYW) is a leading independent wealth management service provider in China focusing on providing asset allocation advisory services and comprehensive financial products to high-net-worth clients. The Company's primary services are wealth management, asset management, other comprehensive financial services, and health management services. Wealth management is currently the Company's largest business segment, in which its onshore and offshore solution platforms serve clients across generations. We also offer integrated and high-end health screening and health management services to high-net-worth clients in China, and aim to become a dual-platform serving clients across market cycles and life cycles. For more information, please visit https://ir.hywinwealth.com.
Safe Harbor Statement
This press release contains statements that may constitute "forward-looking" statements pursuant to the "safe harbor" provisions of the U.S. Private Securities Litigation Reform Act of 1995. These forward-looking statements can be identified by terminology such as "anticipate," "estimate," "forecast," "plan," "project," "potential," "continue," "ongoing," "expect," "aim," "believe," "intend," "may," "should," "will," "is/are likely to," "could" and similar statements. Statements that are not historical facts, including statements about the Company's beliefs, plans, and expectations, are forward-looking statements. Forward-looking statements involve inherent risks and uncertainties. Further information regarding these and other risks is included in the Company's filings with the SEC. All information provided in this press release is as of the date of this press release, and the Company does not undertake any obligation to update any forward-looking statement, except as required under applicable law.
Investor Contact:
Hywin Holdings Ltd.
Email: ir@hywinwealth.com
Media Contact:
ICR, LLC
Email: HywinPR@icrinc.com
Photos accompanying this announcement are available at
https://www.globenewswire.com/NewsRoom/AttachmentNg/879156cb-548d-4fc1-b528-64d556637a72
https://www.globenewswire.com/NewsRoom/AttachmentNg/5daa569b-2d92-4d4b-a3e1-03c0238a3024
https://www.globenewswire.com/NewsRoom/AttachmentNg/dfbbafa7-b3a5-44c3-844f-9b5f23630e30
https://www.globenewswire.com/NewsRoom/AttachmentNg/772b8849-4db1-48a5-b3a9-700392110e03
https://www.globenewswire.com/NewsRoom/AttachmentNg/c8a30046-04ae-4afe-8cb8-9dd3895f4dd6